About the Visitors' Bureau
The Dixon County CVB disperses funds generated from Dixon County lodging taxes. Applications should be made with the intent to promote tourism within the county. Grant applications are evaluated quarterly. Grants are awarded for advertising, marketing, and promotional activities.
Our Mission
Our mission is to promote the unique events and attractions of Dixon County, attracting visitors to our county, encouraging economic growth, and inviting others to share in the natural beauty that is Dixon County.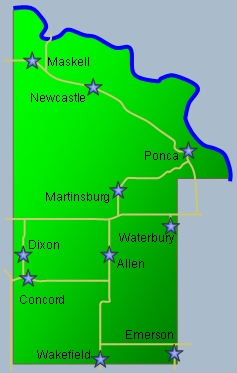 About Dixon County
Dixon County is located in the northeast corner of Nebraska, near the Iowa and South Dakota borders. The county is just 23 miles from Sioux City, Iowa, and less than 2 hours from Omaha, Nebraska. Dixon County features friendly people, open spaces and great attractions.
Please use the following links to learn more about Dixon County:
Town & Village Websites:
Related Organizations